We're super proud to announce the winner of Ride on, baby! the new idea contest launched by Chicco to find innovative concepts for a ride-on toy. And there's also a Special Mention!
The contest saw a very international audience reaching more than 105 countries, involving 167 designers and gathering 186 interesting proposals. Most specifically, the brief was looking for ride-on toy concepts bringing about innovation and fantasy, exploring new ideas and solutions. The projects were supposed to be foot powered and evolutionary, adapting to the different stages of growth. Your response, as usual, was pretty awesome.
Let's get to know the winner!


The Winner
LaLechuza aka Juan Manuel Rodríguez Lara
with
Tory

"We decided to award Tory, among the many proposals, for its design simplicity and at the same time because we think it's a very original idea. Among all entries, we really think it's the most innovative ride-on toy: it's an out-of-the-scheme product for a classic concept of ride-on toy." – Chicco Team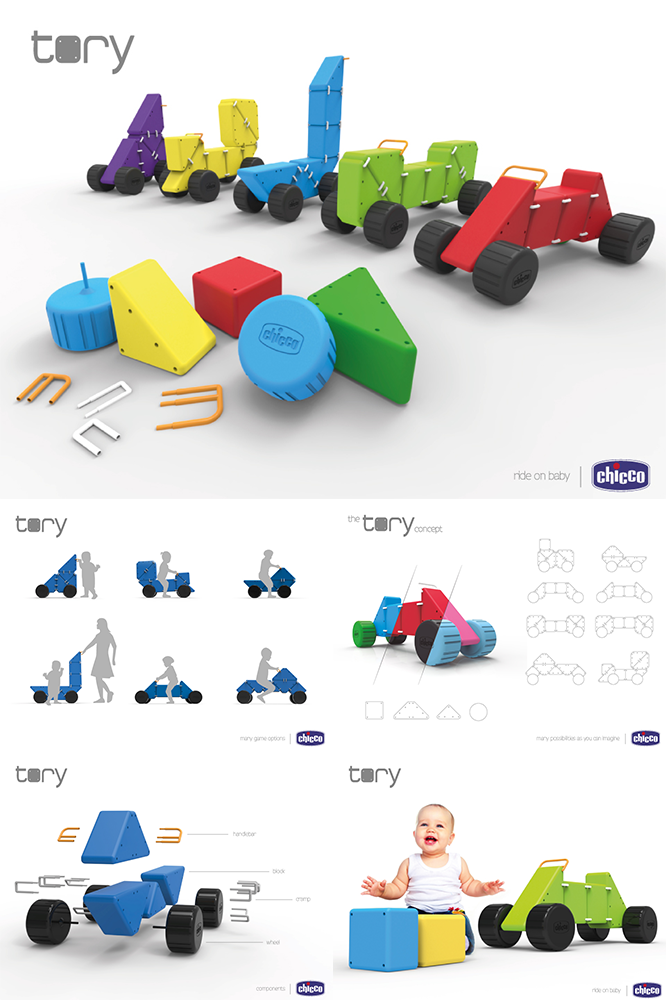 Tory is a conceptual ride on inspired by other games like Tangram or Origami.
Tory enables children to develop their motor skills and to develop their imagination too.
Tory`s concept is based on four kinds of main pieces to creating a great different game options.
This ride on is an innovative and imaginative toy for both parents and children. Lets build several walkers, ride in various sizes and can be used as construction game.
Tory is a toy designed for children aged 12 and 36 months old.
In step 12 months the child can use the toy as a ride on.
From this age, the child can build many different walker adapting to various heights.
The Special Mention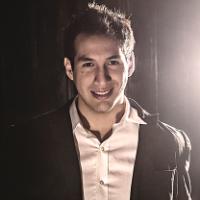 erosalesid aka Ernesto Rosales Ramírez
with
Chicco Ride On
We think that also the author of Chicco Ride On has made a great job. We really like the suggested evolutionary concept of Ride on toy. This is also a very interesting product that might – in the future – find a place in the market. – Chicco Team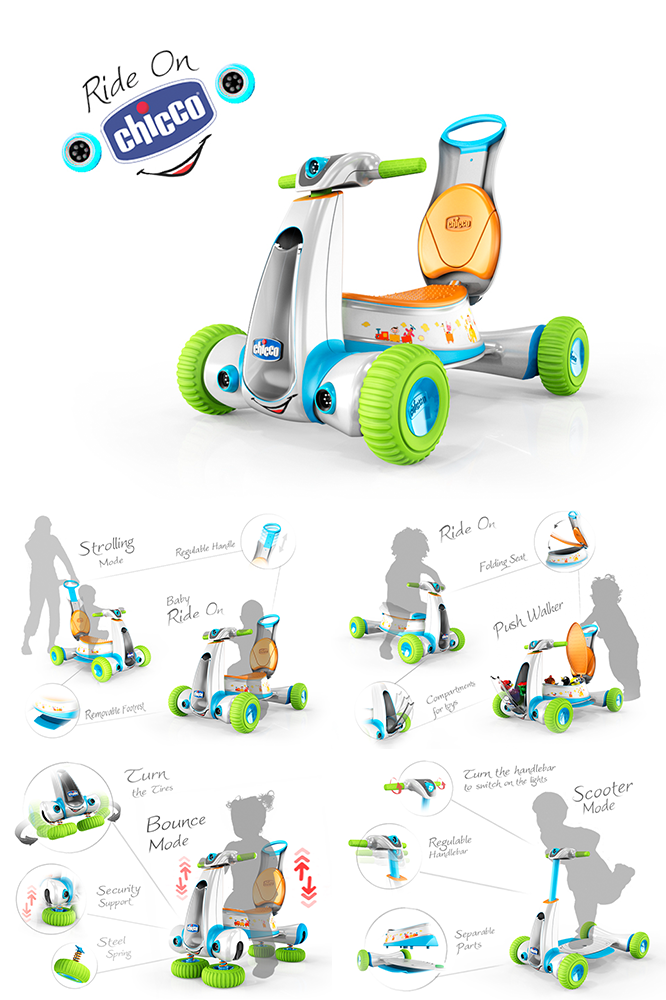 Designed to follow with security the rapid psychomotor development of children of 1 to 4 years.

Great to see such a great level of expertise!! Keep up with the good work.
Stay tuned!!