We're so excited to be in Milan for the Salone del Mobile 2015. This is the place where great design and great companies are on exhibit, so here we come to let anyone know about Desall.com and the huge potential of open innovation design.
Our agenda is pretty busy these days. We'll kick off today (15/04) at Euroluce to meet Fabbian, which is currently LIVE on our platform with New birth of a myth.
We'll then scout for new collaborations and initiatives with the companies there on exhibit. We also have a meeting with Luce in Veneto to discuss possible collaborations. In the afternoon we'll also join Elica, now sponsoring Elica Air Design Award on Desall.com. Another friend of ours, Dal Pian, that launched Glass House Collection back in 2013, this year is exhibiting some new interesting pieces.
And tomorrow (16/04) will be the great day: we'll be publicly announcing our new collaboration with MADE.COM, the famous online furniture shop acknowledged as the second fastest-growing tech company in the UK 2014 and among the Top 50 Best Furniture Shops in 2011. Together we are going to launch a contest for creative talents. Davide Scomparin CEO and founder at Desall.com and Ruth Wassermann, design manager at MADE.COM, are going to officially present our new collaboration at the Fuorisalone 2015.
"We are really proud of this partnership with MADE.COM that has given birth to this new thrilling collaboration, given the actual affinity in our ways to interpret design: Desall with the aim of making product development open to all and MADE that makes design democratically accessible to everyone.

I am convinced that partnerships of this kind can take design to a higher level, where the customer becomes core point and main character of an ever evolving market." –Davide Scomparin (founder and CEO at Desall.com)
Follow @desallcom to get the latest updates!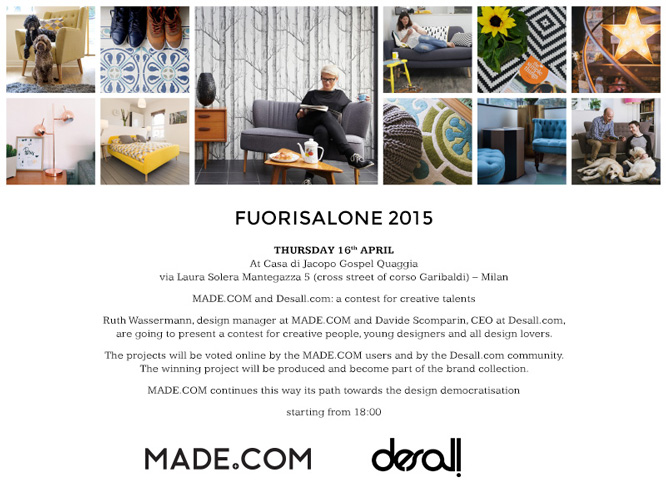 Tag:
collaboration
,
design
,
elica
,
euroluce
,
fabbian
,
fuorisalone
,
furniture
,
MADE
,
milan
,
news
, ...