Smart baby lunch has come to an end, after more than 2 months time for the submission of the projects. During this phase, more than 158 works were sent by 130 different creatives around the world. As you might remember, we also had the honour of having the Chicco Team at the event we organized at the H-Farm Ventures, Roncade (IT), known as Desall Juice with Chicco. Almost 50 designers took part in the event and developed their projects following the hints and suggestions given by the Chicco Team. For those who did not have the change to attend, a public Revision soon followed (rev1) on the contest page. If you want to read more about the event click here.
After a thorough selection, Chicco has eventually appointed the winning project that – most of all – has caught their attention: what they most appreciated in the winning proposal was its "consistency with the brief, adherence to the target needs, modularity qualities, compactness, fridge/freezer friendliness, on-the-go usability, comprehensive functionality, interesting design/appeal and optimization of the components".
AndreaGuarrera
with
SNAP BOX – Outdoor Baby Lunch System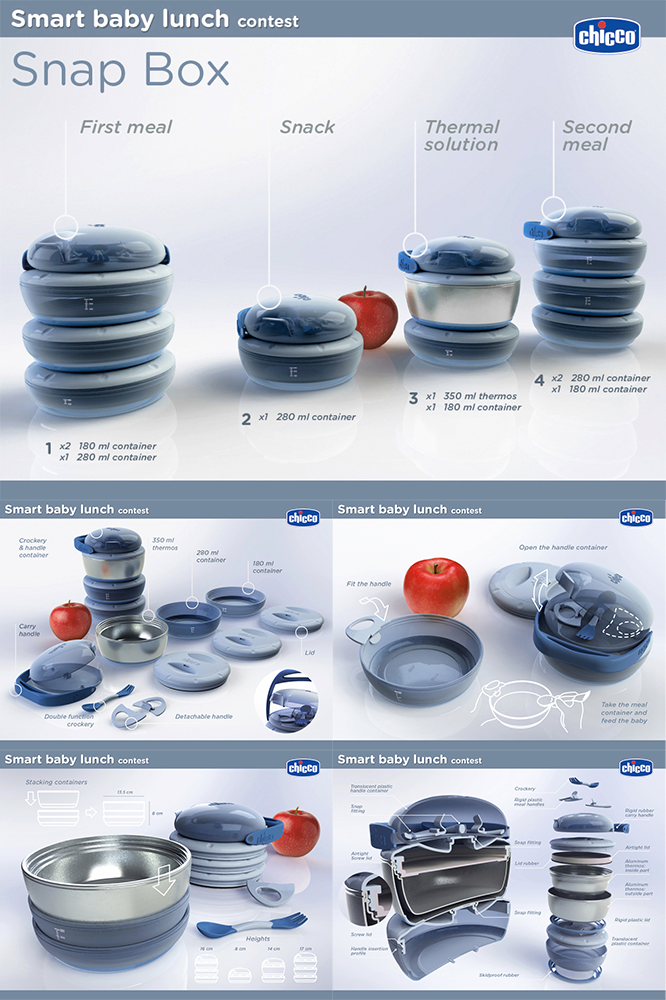 SNAP BOX is a modular system, able to satisfy the needs related to food preservation and transportation of outdoor feeding.
The components are modular, ergonomic and easy to transport and use, easy to clean and they take up less space when stored.
The shapes are rounded and functional, easy to produce.
The colors identify the different components, are attractive and make mealtime a playful moment for the child.


The Special Mentions
In alphabetical order – Update Feb 6th, 2014
MealTwist by Empathy aka Patrizia Pamic & Miryam Vendraminetto


Pingu Pappa by 3time


Shaker Meal by Carlos Martín Vidal


Tower by Jacopo&Victoria aka Jacopo Solazzi & Victoria Raccah



Many congrats to all participants! Keep up with the good work!
Stay tuned for more news and contests to follow.