Smart baby lunch – Refine, the second contest launched by Chicco for the development of a lunch kit to help parents feed their babies outdoors, has just ended.
The previous phase had gathered very interesting proposals, which were quite varied one from the other and eventually only one project was chosen for its consistency with the brief, adherence to the target needs, modularity qualities, compactness, fridge/freezer friendliness, on-the-go usability, comprehensive functionality, interesting design/appeal and optimization of the components. (You can learn more about the previous contest here.)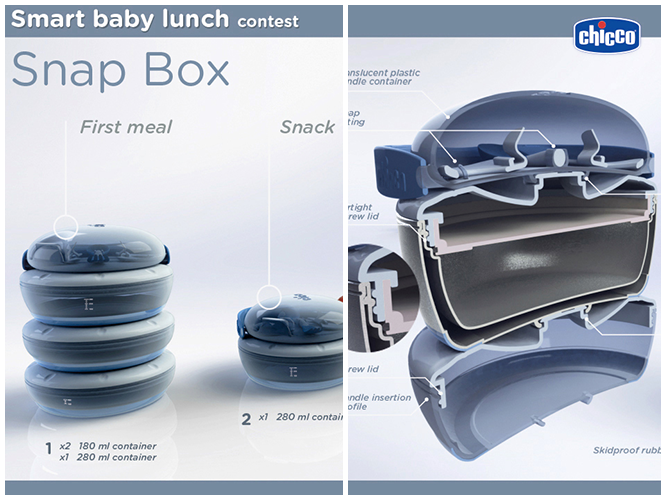 The second phase, which was kept private and confidential, was aimed at defining and improving the winning project "SNAP BOX – Outdoor Baby Lunch System" designed by Andrea Guarrera.
We're now glad to announce that we have a winner. Many congrats to…


Andrea Guarrera
with SMART BOX – Outdoor Baby Lunch System
who managed to further improve his own project into a even better product, following the new indications given by Chicco in the last brief.
The participants presented very well developed proposals, but the project by Andrea struck the attention of the judging team that decided to award him again also in this second phase.
For your information, the project cannot be displayed because the contest had a private gallery, visible only to the Client. (Read more).
Stay tuned for more news and keep joining our contests!