Live like a WOMO, the first contest by WOMO on Desall.com has come to an end with over 200 projects by 140 users from all over the world. It proved a very exciting challenge that asked all participants to focus on the target customer of the brand, men aged 35-50 years, and design a new collection of gift items.
The topic of this first contest, as the title suggests, was lifestyle, exploring five categories defined by the sponsor: Business, Indoor, Connoisseur tools, Travel, Leather gifts.
So today we are glad to publicly announce the three winning projects!
Please greet…
THE WINNERS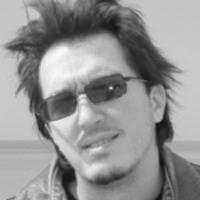 mirkorotondi
with
WOOD LINE – INDOOR/TRAVEL/OUTDOOR
"A collection of premium articles with a very artisan flavour, a perceived sense of quality and an essential, yet classy and elegant style. These are the winning characteristics of Wood Line by Mirkorotondi that, best of all, interprets what WOMO is researching for its customers, that thanks to these accessories will be able to make their daily activities even more pleasant and premium." – Comment by the WOMO Team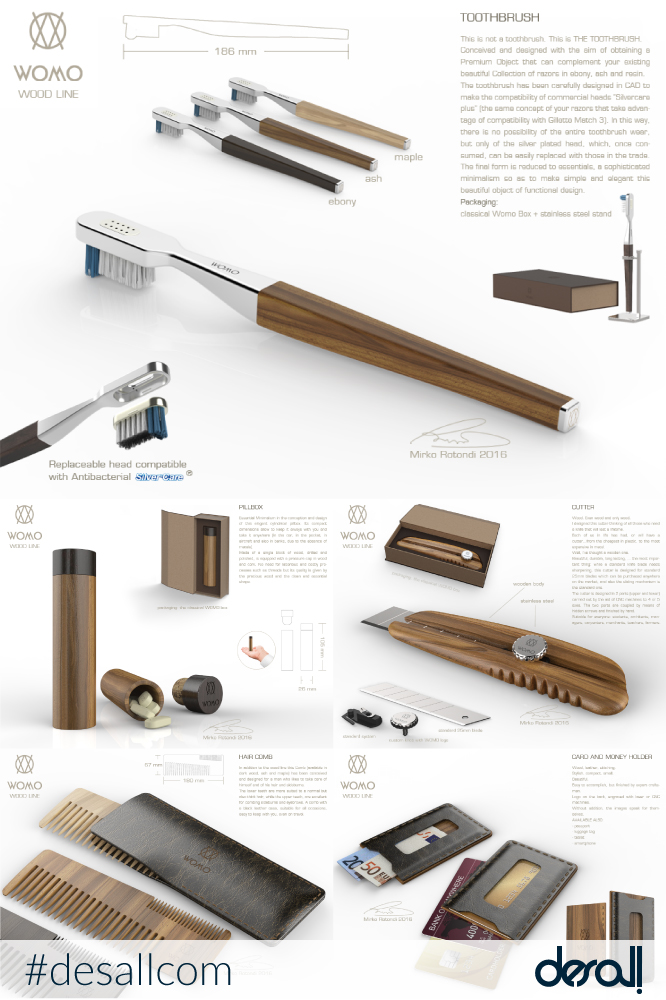 In my projects I used mainly ash and ebony wood, trying to keep the taste and quality related to the product line that WOMO has already developed previously (razors, shaving brushes, brushes etc .)
I have considered the feasibility of products, avoiding complex and expensive industrial processing, thinking to a quality production handcrafted finished in details (as required in the brief).
Robian&Mariela
with
WOMO Wanderer
"The WOMO man is a traveler and the Robian&Mariela duo, with their Wanderer project, perfectly intercept the needs of our customers, who, while traveling, like to be organised and functional, without giving up to class and elegance in their accessories, crafted with an unmistakable style and made with fine materials."  – Comment by the WOMO Team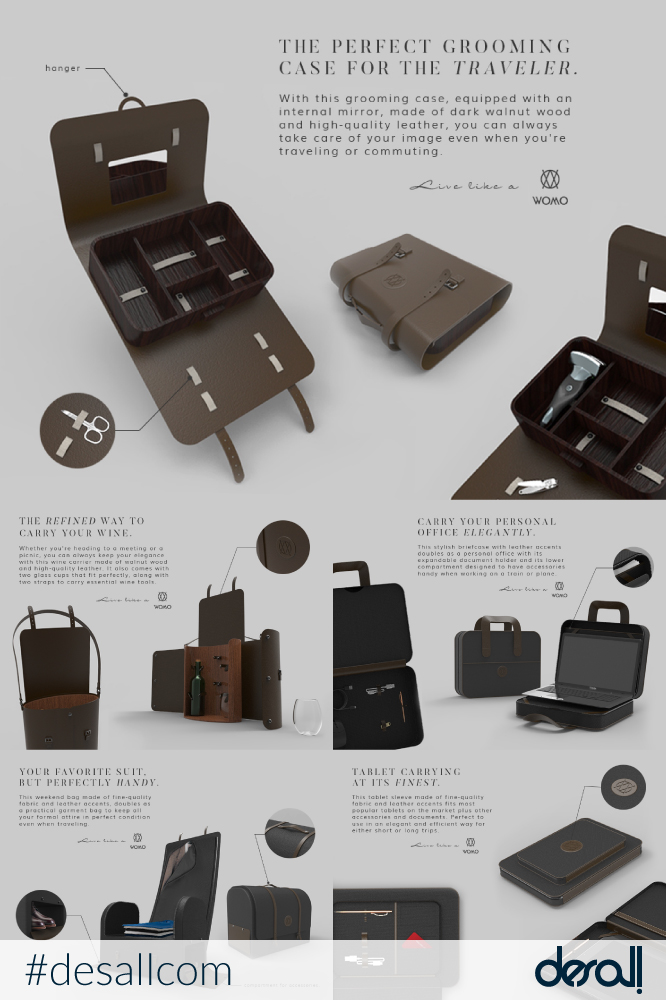 "WOMO Wanderer" is a collection of travel items designed for the man who seeks refinement in their persona and their surroundings. Each item is designed to make carrying personal items a more comfortable, practical and stylish experience. With this collection, style travels with you whether you're headed on a weekend escape or just to your office. The collection includes a grooming case, a tablet sleeve, a briefcase, a wine carrier and a weekend/garment bag.
Lorenzodf
with
Live like a WOMO – home and travel gifts collection
"The perfect gift? Unexpected and with great personality. This is the reason why the third winner of the WOMO contest can be none but Lorenzodf, with his home & travel gifts collection, perfect to satisfy the most demanding men who always need something more, both at home and while traveling. – Comment by the WOMO Team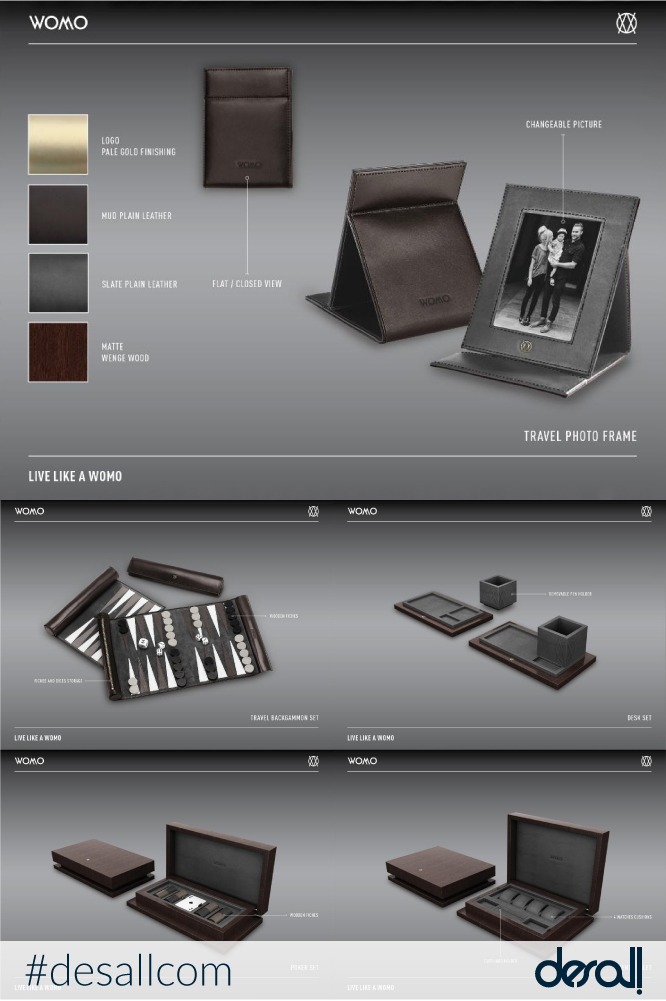 A collection of home and travel gifts designed for the dynamic man, that takes care of himself, of his house and of his guests, and who likes to travel in WOMO style. From the entry level item to the most important and refined piece. The collection includes five articles of exquisitely craftsman flavour. A contemporary collection with a timeless touch. Items: Leather travel photo frame / leather travel backgammon set / desk set / poker set / gents valet.

Stay updated for more news to come… and join the other contest by WOMO, WOMO leisure time!
Tag:
accessories
,
classy
,
contest
,
fashion
,
lifestyle
,
men
,
percassi
,
premium
,
product design
,
winner
, ...