The origins of the "organic design" can be traced back to the Art Nouveau, an artistic and philosophical movement active in the decades between the Nineteenth and Twentieth centuries, which influenced the figurative arts, the architecture and the applied arts. One of the most important features of this style is the inspiration drawn from nature: its peculiar traits are in fact the organic shapes, the curve lines, with ornaments preferring vegetal and floral motifs.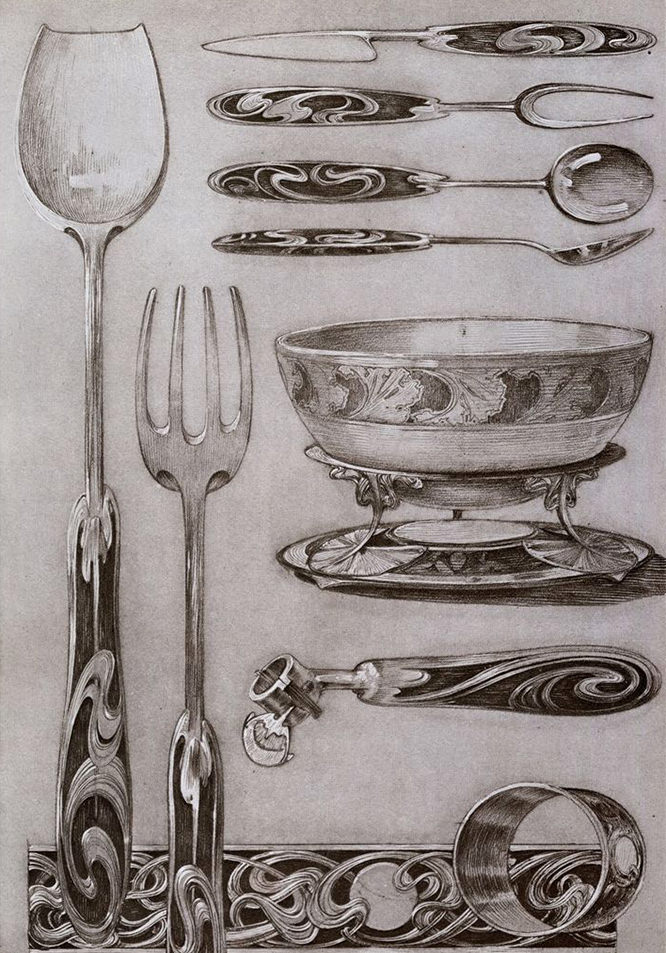 Throughout the years this aesthetic sensibility for the organic concept has undergone several changes, that verged towards a more minimal expression. In this post you can find a collection of products by Zaha Hadid and Ross Lovegrove, respectively architect and designer, that interpreted the organic concept with their projects, a style that employing amorphous, sensual and organic shapes can become inspiration for your new product for BREIL (Read the brief of "BREIL – What's next?").
Another world which is close to the jewellery industry and that can become source of inspiration for your projects is the fashion world. Indeed, there are several wearable products that can be modified according to the functional and aesthetic requirements of the consumer, employing modular elements or different ways of use suggested by the project.
IMAGE CREDITS
https://www.pinterest.com/raffaelesesto/alphonse-mucha-documents-d%C3%A9coratifs/
https://i.ilamparas.com/artemide/2013/images/mercury-colgante.jpg
https://s-media-cache-ak0.pinimg.com/originals/98/96/28/98962895af45e72129d30025a7161003.jpg
http://immagini.webmobili.it/ImmaginiProdotti/lampade_da_terra/Big/57-LAMPADEDATERRA-77137-B-1.jpg
http://retaildesignblog.net/2011/05/23/andromeda-lamp-by-ross-lovegrove/
http://www.despoke.com/2010/07/12/triflow-concepts-ltd-announces-2010-triflow-future-talents-design-competion-in-association-with-100-design-2010/
http://www.archiexpo.it/prod/b-b-italia/product-11276-211642.html
http://design-milk.com/melissa-zaha-hadid-really-cool-plastic-footwear/
http://www.designboom.com/architecture/zaha-hadid-form-in-motion-exhibition/
http://www.wikinoticia.com/images2//s3.monkeyzen.com/files/2011/07/IMG_8991.jpg
http://dalje.com/slike/slike_3/r1/g2009/m01/x188193505641784836_1.jpg
https://fashiondesignthinking.wordpress.com/2012/09/12/look-of-the-day-3/
http://www.nssmag.com/fashion/4882/talent-corner–superduper-hats