We are glad to announce the results of Good Morning Design by Gruppo Argenta. Designers were invited to create a new graphic design for the front panel of the company automatic vending machines, re-thinking the whole user experience. The brand was required to receive maximum visibility on the vending machine so that every customer could immediately recognise Argenta. The whole initiative was met with great interest, involving creative talents from different countries in the world.
Desall was a great chance for us to enter in direct contact with the world of design and creativity. It also proved a professional support, keen on understanding our requirements, and represented a meaningful turning point in the care for our projects. (Comment by Argenta team)
Let's go to the winning project.
THE WINNER
Laspirino
with
Drink Different
Argenta is glad to announce the winner of the contest where 132 designers from all over the world competed through the Desall platform. Argenta decided to award the "Drink Different" project by Laspirino, who suggested a multi-coloured project, suitable both for individual installations and for installations to be placed inside Argenta stands. The project was also selected for the video content, that is simple and clean, yet playful and interactive. (Comment by Argenta team)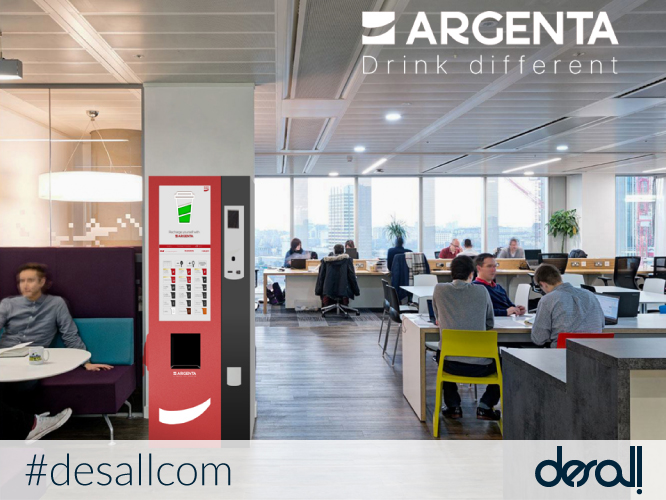 We have created a new minimal graphic design, that can be suited to any environment thanks to the covers in aluminum, available in different colours.
The covers will be applied in the frontlet of the vending machine in order to hide the discontinuity of the frame and of the materials, making it uniform and elegant.
For the user experience we have recreated the Tris, an easy game, intuitive and quick, suitable for all. Another amazing tool is the SelfieArgenta.
Many congrats to all participants for the great ideas and projects!
That's all for the moment, stay tuned for more news to come!