MILAN 2014 – Last year we had the great pleasure to launch a very interesting contest for Vetrerie Dal Pian, a small company based in Treviso (Italy) running a business regarding the production of flat glass panes employed by important brands for their designs.
The contest was Glass house collection '13 and received 416 different design proposals from our international Community. At the end, six designs were awarded (If you don't remember who they are, have a look at our previous post at: http://des.al/GHC13Winners) and featured in the Fuori Salone 2013 in a digital preview.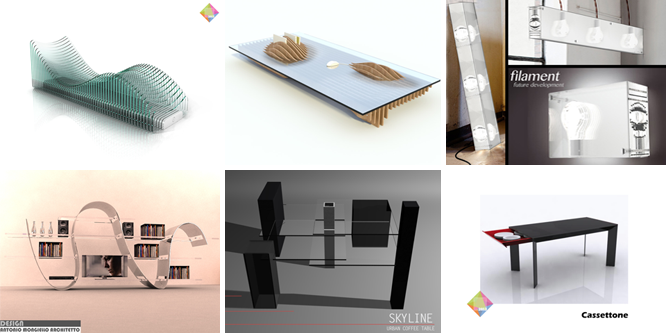 But this was long ago (last year)…
In fact, in the meanwhile things really reached the next step we were all expecting. After the great success of the first exhibition in Milan (cf. Fuori Salone 2013), Vetrerie Dal Pian did not waste time and started working on the projects. First came Chaise Longue (now named Diva) by Stefano Alberti, soon followed by Mountain and Water designed by Oscar KO & Yunduan GU and Filament by Tom Lawson & James Green.
After several feasibility studies and prototypes, some adjustments to the roadmap and other tweaks, the idea of joining the Fuori Salone 2014 became reality.
There wasn't much time left and there were a lot of things to do: a part from all the engineering work the Vetrerie Dal Pian staff had to perform to realize the final CAD files for the real products, the new brand identity was also missing. So we asked some of our best creatives to join an off-line contest for the development of the logo and all the corporate identity of Dal Pian Design, the brand that would represent the new projects at the upcoming event. So the Client chose the proposal designed by Croma Studio that became the new brand of the company www.dalpiandesign.com.

Ultimately, all was ready and the three projects were taken to the Fuori Salone 2014 (April 8-13, 2014 at Superstudio più) for exhibit and met with great praise by the public.

These are the final projects:
[portfolio_slideshow include="2472,2474,2482″]
All in all, another interesting case study, a part from  #Concrete In Design by Italcementi, that shows how crowdsourcing and open-innovation are real alternatives to the traditional methods for making innovative design.
Enjoy some snaps of the event in Milan:
[portfolio_slideshow include="2502,2496,2497,2498,2499,2500,2501″]
Stay tuned for more info!



Tag:
chaise-longue
,
contest
,
design
,
designers
,
exhibit
,
fuorisalone
,
glass
,
glasshouse
,
lamp
,
light
, ...