MILAN – Yesterday (27/03) many people gathered at the Alessi Flagship store in Milan to attend the official presentation of the winner of #Concrete In Design, the contest by Italcementi and Alessi held on our platform, that explored new applications and design solutions for i.design EFFIX, the special mortar developed by Italcementi at i.lab for the design world. Luca Galbusera, a 30-year-old designer from Italy, had won the contest with his "Omaggio all'artigiano/tribute to craftsman", a cement centrepiece fruit-bowl covered with a wicker texture rendered on the prototype thanks to the high detail properties of the mortar.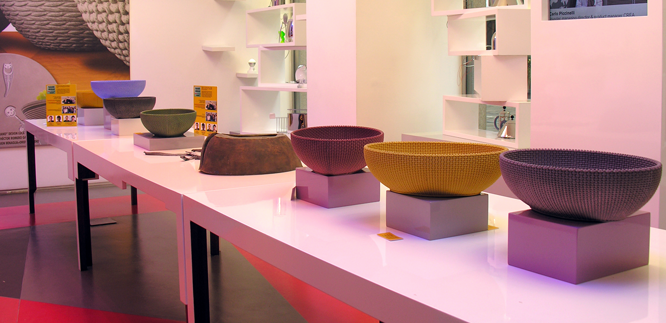 During the event, Silvano Guglielmazzi, Product Marketing & Communication Manager at Alessi, presented the idea behind the project, in line with the innovative research by Alessi on design and style, discovering new materials and applications to help designers express themselves: indeed, cement turned out to be a very interesting material to work with, especially for such an important item of their catalogue, the centrepiece, already available in several other materials.
Andrea Parodi, Product Manager at Italcementi, followed in the presentation explaining the high-performance features of the EFFIX design that led to the collaboration with Alessi for its interesting application for the design world, introducing the 150-year-old history of the company and the wide range of state-of-the-art materials at the core of their success. In fact, Italcementi has always been researching and experimenting new and innovative materials and since its opening a team of researchers has been working at i.lab, the Research and Innovation centre by Italcementi based at the "Kilometro rosso" in Bergamo.
Laura Polinoro, art director of LPWK DESIGN STUDIO, which has collaborated with Alessi for many years in the organization of workshops for the creation of new collections, also featured in the project, following the development of the object in close collaboration with the author, Luca Galbusera.
"Omaggio all'artigiano" will be exhibited at the Alessi Flagship store in Milan, till April 2nd. The project will also be feauturing in the ICFF of New York this year.
Thanks to all for joining us in Milan. Stay tuned for new updates.
[portfolio_slideshow exclude="1,2″]